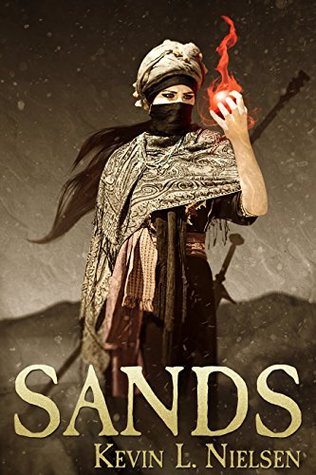 For nine months of the year, the sands of the Sharani Desert are safe. The genesauri—giant, flying, serpentine monsters who hunt across the desert in enormous packs—lie dormant. The smallest of their kind is able to take down a single man with ease, and the largest is able to swallow entire clans. The people of the desert have always been able to predict the creatures' appFor nine months of the year, the sands of the Sharani Desert are safe. The genesauri—giant, flying, serpentine monsters who hunt across the desert in enormous packs—lie dormant. The smallest of their kind is able to take down a single man with ease, and the largest is able to swallow entire clans. The people of the desert have always been able to predict the creatures' appearance, but this year, the genesauri have stopped following the rules. When the genesauri suddenly attack her clan, seventeen-year-old Lhaurel draws a sword in her people's defense—a forbidden practice for women of any clan—and is sentenced to death by her own people. Chained to a rock and left to be eaten by the next wave of genesauri, Lhaurel is rescued by a mysterious, elusive clan said to curse children at a glance, work unexplainable terrors, and disappear into the sands without a trace. With the fate of the clans hanging in the balance, Lhaurel discovers she possesses a rare and uncontrollable power—one that will be tested as the next deadly genesauri attack looms on the horizon and the clash between clans grows more inevitable by the hour....
| | | |
| --- | --- | --- |
| Title | : | sands |
| Author | : | |
| Rating | : | |
| ISBN | : | 25963243 |
| Format Type | : | Kindle Edition |
| Number of Pages | : | 278 Pages |
| Status | : | Available For Download |
| Last checked | : | 21 Minutes ago! |
---
sands Reviews
I need to explain a few things before offering a book review on SANDS. I am the author's father. I am strictly a reader of biographies, history and once in a while a religious fiction book. I have never read an eBook in my life as I am still "old school" and like the hard copy in my hands (which I was able to get). The last time that I read a fantasy book of any kind was while in 10th grade of High School because I had too (The Hobbit). With that said, the only reason that I picked this book up to read, was because it was written by my son. He was shocked when he found out that I was actually reading it (go ahead, ask him)! Because of the type of books that I like to read (all organized and going one direction), the first 3 chapters were hard for me to grasp as they seemed to be scattered all over the place and there was a flurry of information and people that came into play, that made me really have to concentrate on what was being said. A few times I even had to go back and reread to finally realize where I was. However, once chapter 4 started it all started to fit into place and by chapter 7 I wanted to know what was going to happen next. You know that feeling when you don't want to put the book down, but you have to go to sleep or go to work kind of feeling? The second half of the book just flew by and the twists and turns were not what I expected to happen in my own mind as I started to form opinions of the characters and situations in the book. Yes, at times it was a little graphic, but so is history. Does it leave you thinking about where are the remaining characters in the book going from here? Yes. Do I want to find out what happens next, because the book ended with a few more questions and turns that I want answered? Most definitely YES! The bigger question is……When will SANDS2 be coming out???Thanks,James D. NielsenA 56 year old first time fantasy reader

I wrote the book, so I think it is pretty much amazing. I hope the majority of those who read it get at least some enjoyment out of it, for that is what writing and reading are about - a mutual sharing of a story as one person tells it and the reader experiences it. Besides, who can pass up flying monsters, strong protagonists, and magic all in the same book?

*I received this ebook in exchange for an honest review*Wow.Since a publishing company I've never heard of before gave me a book from an author unknown to me, I honestly didn't expect much. I really just needed a book (any book) to read for the flight home from Indonesia. It's a long flight so I gladly accepted a free book to keep me occupied.I was BLOWN AWAY (sandstorm pun totally intended) by this book! I love the main character. She's strong, a great fighter, what's not to love? The author dragged me along with a bit of mystery and discovery. So many twists and turns, totally did not expect the ending. I highly recommend this book! It's a great fantasy with an edge of awesome action. However, and I almost hate to say it because I loved the book so much, there were a few issues.Normally, I don't point out editing errors because editors and authors are human. I expect mistakes. But there were so many common editing mistakes that, at times, I was distracted from the story. Also, there were a couple plot holes that I think could've been cleaned up a bit. I do hate saying that after publication... but it was distracting enough that some instances jarred me and I had to refocus on reading. In some places, it almost had a self-pubbed feel to it, if that makes sense to anyone else. So for those of you who hate that, maybe read the sample before you purchase because it might not be an enjoyable read for you. Also, keep in mind that I was switching time zones while I was reading--totally sleep deprived-- so maybe it wasn't as frequent as I thought? NEVERTHELESS! I loved it and thoroughly enjoyed it. The plot was awesome. Main character was incredible. All the stories wove together so beautifully at the end. Nothing could be expected. If you are looking for a high-action, awesome book I highly recommend this one for you! I even added it to my "loved" books list:) Bonus:Here's the amazon linkhttp://amzn.to/1CZl941

I thoroughly enjoyed Sands! I usually read mystery and crime books and I am a big fan of fictional works. I honestly haven't read this kind of book in a very long time, but I know the author's father, and when he told me about it I was really excited to read it. I was lucky enough to be presented with a signed copy!In the first few chapters there is a lot of information given about the characters and the world they live in. For some it may be hard to track but I found it fun to picture it all, and put it all together in my mind. As things really started rolling, I was fully enthralled with the story and this really cool world the author created. Sands kept me wondering what could possibly happen now?! And when I thought I had it figured out,I didn't. Awesome plot twist that opens up many questions and leaves you anticipating the next part of the Saga! I can't wait for more and if you read Sands, you ll feel the same! Excellent book, highly recommended.

This book was more amazing than I thought it would be, I really loved it! I can't wait to read Storms now!

SandsInteresting read. Great characters, intrigue and plot. Things are amiss in the sands. It's only a matter of time before things repeat themselves; so has history taught us.

4.5Great read, love the world. There are some pacing issues, places where things go just a little too slowly, but the story is so interesting and the last part of the book is absolutely excellent, if you can just hang on through those bumpy parts it is worth it.

Sands could have been a great story.If I could have given "Sands" 3.5 stars I would have. But, I can't. So, I'm rounding up.Three stars says "The book is okay". It's better than okay, but had too many technical errors for me to say I really liked it. That's wrong, too. I liked it, but was often drawn out of the story by typographical errors and plot inconsistencies. Some of the typos would even be picked up by "Word". I'm not sure how they were missed.I like the world, though felt a number of things were inconsistent or unanswered to my satisfaction. This is a desert world, yet they have goats, sheep and cattle. (Beef requires 75 to 100 gallons of water just to produce a single ounce. Where were they grazing these cattle and getting--wasting--that much water?) And the wood. They sat on wooden barrels and had wooden doors. There were no trees in the desert and the Oasis only had palm trees...not ideal for barrels or doors.The plot was good and the characters mostly consistent.I'll look forward to the next book in the hopes that Kevin Nielsen has grown through the publication of this book and that the editorial staff will put a little more work into it before publication.This would have been a great book, well worth five stars, if the editorial staff had shown some tough love and spent more time proofreading.

Jurassic park meets Harry PotterAncient deceit and mystery mix with designer dinosaurs and the last of a dying people in the desert sands. A secretive protector clan capable of great magic defend their dying race. This book is filled with treachery and blood...lots of blood and death. The mysteries are never completely answered and will keep you spellbound for the next book. If you wanted something unpredictable...this is it!

A more thorough review will be up asap. It's past midnight and I need a minute to gather my thoughts. Two words regarding the last fifty pages or so though, mind blown.

A great readLoved this book. I WS given a review copy and I would normally read from this genre. But I loved this book. It was fast moving, adventurous, intriguing and compelling. I would highly recommend it.

Be aware that it will hook you. Worthy of a read .

Reminds me of both Dune and the Mistborn series.

Good intro the the series, heavily concentrates on Lhaurel and the customs and cultures of the Rahuli people, great world building and imagery. Though I have a couple of issues with the writing, the story is really one to keep reading for.

An enjoyable book, but a bit of an abrupt ending leading to a sequel. Still, it had engaging characters, a Dune-like setting and creatures, and a plot that kept me wanting to know what happens next.

If I hadn't started skimming through this book, I never would have been able to finish it. It's not even really that long either. The story itself is fantastic. I liked the world. I liked the characters, especially in the climax. The climax was awesome, actually.But the first of it was really slow. And the middle of it was really slow. I realize that with epic fantasies you expect some pacing issues (which is why I don't read them quite as much as I used to), but this seemed excessively slow, despite the fact that things were definitely happening all the time.I've heard from a bunch of people who absolutely loved the book, so I guess it depends on what you like. To be fair, I abandoned the Way of Kings by Brandon Sanderson because of boredom and pacing issues too, so if you were one of the many people who loved that book, you might very well enjoy this book as well. It certainly had a story that's good enough to love, especially if you don't mind taking things slow.

**I was given this as an e-book in exchange for a review**This had a dystopian feel to it and parts of it reminded me of The Maze Runner and X Men with being able to control metal but other than that this was a new kind of story that held my interest and made me want to get to end to find out what happens! Of course though, this is a book in a series and so there were plenty of unanswered questions that we will probably find answers to in the next books. Like who are the Orinai?!I had trouble with the names of the people and the names of the creatures they fought so that was a little distracting but the story is very engaging. There are, at one point, three stories going on at once that eventually converge so there is a lot going on. It will be interesting to see what happens next!

7/10. The last act of this book is tremendous, an absolutely terrific ride. Great world building and a fascinating magic system. What kept it from being better is uneven writing and a very slow middle act. The author uses words link 'symphony' to describe sounds from a POV without experience in music. His characterizations were a little all over, and sometimes hard to follow. But I forgave the shortcomings because of good characters and a great final act.

"Sands" was extremely enthralling, I didn't want to put it down! I've never been the biggest fantasy reader or reader In general but if I had read this book when first starting to read in this genre I would have read a lot more books!! It has some great strong-willed women and twists I was not expecting. Definitely thought provoking while providing some great entertainment!

Oh boy, what a book. Excellent plot, fine characters, nice setting. I wish this book got as much attention as many other YA/fantasy novels.Really looking forward to reading Storms!

Wow! I just stayed up until 1:40 am to finish SANDS! It was well worth it. Kevin Nielsen does a fantastic job of ratcheting up the suspense! He had me collecting clues and piecing together hints as I couldn't sleep waiting for the climactic ending I knew was on the way. Great job!

This book took me a ridiculously long time to finish, due to the fact that the story didn't pick up until nearly the end. The story seemed to just kind of mosey along at a snails pace until the author realized that, oh yeah, he was writing a book and it should probably have an END before too long, and crammed all of the action and actual information into the last three or so chapters. On top of which, the one death that actually affected me was cheapened by the way it was handled. Furthermore, I found a lot of the terminology to be ridiculous, and like they came from a few different books, making it somewhat non cohesive. The jump from a language that uses both 'magnetelorium' and 'wetta' as titles is unrealistic in my head and I can't get past it. Overall, this book was saved from a one star review by having all of its substance in the last few chapters. But I will probably not be reading the next one. At least not any time soon. I'm curious about what happens, but not so curious as to rush into another book like this.

Sands is a Young Adult Fantasy novel that takes place on a desert world with a competitive man dominated society. Lhaurel, the main character, has always chafed under the oppression that women receive out in the desert, but does her best until one day her world falls apart. Dangerous desert animals attack her tribe and she is rescued and kidnapped by a wandering nomad who brings her to a place where she can learn to be free and to unlock her hidden magical potential. Sands is a really fun story that I enjoyed reading. Sometimes time skips between chapters and it's hard to initially tell that time has passed and I got the feeling that I was missing something any time it happened. Beyond that criticism, I felt that the story was very well told. It had a lot of intrigue among the various desert clans, and the world felt real and lived in. I recommend Sands to any lover of fantasy.

Wow. I thought I knew basically what I was getting into when I started reading this book, but it surprised me over and over. Sands is an excellent and thrilling start to what looks like a very promising series.Lhaurel is a young woman of the Sidena clan, a group of desert-dwellers who live a harsh life. They compete against several other desert clans for resources in the unforgiving environment, and for a few months of every year they must seek refuge in the Oasis--the only shelter from the hordes of monstrous, bloodthirsty genesauri--during the genesauri's yearly migration. In Sidena society, women are second-class citizens. Actually, maybe that's too kind a description. They're treated more like property or brood mares, good only for bearing children, doing housework, and pleasing their husbands. Women who speak out of turn or otherwise show "disrespect" to men are beaten without repercussions. Lhaurel chafes at these restrictions and rebels by practicing sword forms in secret.On the day of Lhaurel's wedding (an arranged marriage where she has no say in the matter, of course), a pack of sailfins--the smallest but most numerous kind of genesauri--attacks the Sidena, slaughtering a large number of people because the clan only had a few minutes' warning; and they only had even that much warning thanks to a mysterious stranger who announced that the genesauri migration had started early. In an effort to defend her best friend from a ravenous sailfin, Lhaurel takes up a sword during the attack and manages to slay the beast. Because Sidena women are forbidden to wield weapons, the clan leaders sentence Lhaurel to death and chain her up to a rock in the desert for the genesauri to devour. Cue the return of the mysterious stranger, who introduces himself as Kaiden and offers to rescue Lhaurel if she swears fealty to his clan. She agrees--what else is she going to do?--and they narrowly escape the approaching sailfins on the back of Kaiden's aevian, Skree-lar, a super-sized bird of prey. (I'm thinking probably a falcon, based on the diving habit.)Thus begins Lhaurel's new life among the Roterralar, Kaiden's clan. They're waaaay different from the Sidena: women have rights, participate in combat, and hold leadership positions. Not to mention the aevians; many of the Roterralar have a feathered companion to serve as their steed in battle against the genesauri. And some members of the clan are mystics, meaning they can magically manipulate either water, metal, or electricity.So at this point in the story, Lhaurel has some big questions that need answering. 1) Why did the genesauri start migrating early this year, and how can the clans survive it? 2) Why have the other clans been kept in the dark about the Roterralar's capabilities (i.e., the existence of aevians and mystics)?Stuff I liked:THE AEVIANS. I love birds, so the idea of having a massive falcon for a best friend and flying around on his back is like the coolest thing ever to me. Lhaurel's aevian, Fahkiri, was easily my favorite character.The plot twists! They just kept coming, and I don't think I correctly predicted a single one. Time after time, characters proved to be not who they seemed, and I never knew how Murphy's Law was going to manifest next.The journal quotes at the beginning of each chapter. It kind of felt like a throwback to when I first read Brandon Sanderson's Mistborn trilogy--I could tell the excerpts were hinting at something relevant to the plot, but they were mysterious enough that I only got a vague, nebulous idea of what they were hinting at until I got close to the end. (I'm still not entirely sure what the full history behind the journal entries is. Hopefully more of that will be revealed in book 2.)The imagery! Kevin Nielsen has done a wonderful job bringing the bright, rugged desert to life in my mind. Not just the desert, either, but also the fierce aevians, the valiant Roterralar warriors, the shifty Sidena politicians, and the holy-carp-scary genesauri.Areas I think could be improved:More scrupulous copy-editing. I recall some instances of homophone confusion, e.g. breech vs breach. ("Breeches" is an old-fashioned word for pants/trousers. "Breach" means a break--a breach in the defenses of a besieged city, a breach in protocol, a breach in etiquette, etc., and can also be used as a verb in a similar way as "break.") Additionally, throughout the book, there were plentiful references to "casts" and "cast leaders" within the Roterralar clan. These were obviously referring to social groups, so I wonder if maybe it was supposed to say caste (with an E) instead. A few times there were little formatting issues--quotation marks curved the wrong way, or the first letter of an emphasized word not being italicized like the rest of the word.Adding a pronunciation guide. Lots of the names gave me pause when I was trying to figure out how they should sound, namely genesauri, Eldriean, Rhiofriar, relampago, magnetelorium, wetta, and marsaisi.But you know what? All my "complaints" are pretty superficial. The story, the characters, the worldbuilding, the emotional connection I felt--they were all spot-on, and those things are far more important factors in what makes a good book.So if you're looking for a fantasy that takes some familiar tropes and thinks outside the box with them, a fantasy that will keep you guessing about who to trust, a fantasy that's at once epic and personal--don't miss Sands! It's a very solid 4 stars. Bravo, Kevin Nielsen.

Kevin L. Nielsen is the mastermind behind this beautiful work of fiction! I could not put down this Goodreads Giveaway win."Sands" is so elegantly written. The plot flows without difficulty, the characters breathe as if they lived, and the descriptions of the surroundings are so intricately written, you could paint the most magnificent picture with words alone."Sands" is more than just another novel on the shelf. It stings and sizzles with a life inside waiting to be told. If I could take every positive word and ram it into this review, I would. This book is that amazing!To have ended reading "Sands" is like all the water source has been stolen--and I for one am incredibly thirsty for more.

This may be a series targeted to a young adult reader, but because of its quality writing, character depth and that it's just an all-round thoroughly pleasing fantasy read I think it's destined for a much wider audience. A unique world, some wonderfully realistic characters and some very unpleasant monsters, and not just the animals. There's certainly action aplenty, intriguing threads interwoven into a compelling story and some quite fiendish twists. No annoying cliffhanger, but more tantalising story to yet unfold, of that I have absolutely no doubt and already have the second book, Storms, which I'm about to open. An author to note and a series well worth checking out.

Obviously a first novel but an interesting premise and not a bad listen. Narrated by Tanya Eby who did a good job. However I don't recommend the audio as there are just too many very similar (and all strange made-up) names for it to be a pleasant listen. There is a large cast of minor characters - most of whom die quickly - Game of Thrones has nothing on this one - and they all seem to have similar names!I'm going to read the next one on my Kindle ... I want to know how Laurel grows but I really need the text version to try and work out who everyone actually is

I picked this book up at a local convention and loved it so much I had to get the audiobook too! Sands is an extremely interesting story, set in a well-constructed world, lot of unexpected plot twists, with a number of characters that you can find yourself connecting with. I really enjoyed the original ideas and themes in this book. The story moved with a solid pacing that had me excited to turn the page to see what twists and turns would happen next. Kevin Nielsen has done a wonderful job in bringing the bright, rugged desert with his vivid imagery. However, it wasn't just the desert he brought to life, but the ferocious aevians, the noble Roterralar warriors, the dubious Sidena politicians, and the extremely terrifying genesauri as well.So if you're looking for a unique fantasy that takes some familiar tropes and thinks outside the box then I recommend you snag your copy today!

I enjoyed the main character Lhaurel. I liked the story about magic and secrets. Khari is also a great character. Loved the heroines. I was definitely surprised by the turn of events and who ended up being the antagonist. I am looking forward to the development of Gavin's story-line. Going to definitely read the second book!

😻Oh wow. It was a bit dry at first. At the same time it got me emotional ally involved. The way the women are treated just sucks. Unfortunately they are still that WYoming in some places. But t hi is book was so good. So happy book two is already out!!